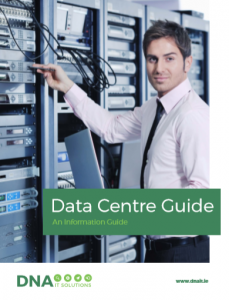 With words such as flexible and scalable, a data centre solution should be tailor made to fit your requirements. Storage should be cost effective with you only paying for what you need, when you need it. Welcome to this introduction to data centres brought to you by DNA IT Solutions. This guide is one of a series that we hope will be useful to give you an insight into what you can do to help make the right IT decisions.
What is a Data Centre?
A data centre is more than a facility used to house computer systems it can be the brain of company. Most critical processes are run in the data centre so it is important that your choice of data centre meets your requirements. A data centre houses servers, storage devices, cables and a connection to the internet and allows your IT infrastructure to function efficiently.
We have come a long way in the past 80 years from when a single computer would fill a complete room. In the modern office today our IT equipment is more powerful than ever. In any sizeable organisation there is a need for a dedicated area to store and manage the IT hardware. In smaller businesses that may result in a 'server room' within the building itself or as a company grows it will evolve to using an external data centre.
The Brain of the Business
This data centre facility will be the place where the organisations IT operations are centralised. It will be a place that stores and manages data that is crucial to the day to day workings of the business. A data centre will provide a cloud solution for the organisation where they can run systems and store data with great flexibility and scalability. It really is the choice for the modern enterprise with ambition for growth.
Secure
The security of the data centre will be of concern and that is why we only offer solutions that are tried and tested and up to our high standards. The right environment must be in place to protect from theft and ensure protection of hardware.
The building itself must be secure and well protected to prevent unwanted visitors. It should provide an environment that has proper cooling systems in place to prevent overheating and keep temperature and humidity at consistent levels. Data centres need great power to operate and systems in place should power fail. We would also expect procedures in place for natural disasters such as fire, flood or storm.
There will be critical hardware and software on the premises so backups are vital. We would expect the onsite team to have both the expertise and the experience to perform the tasks necessary.
Technicians and maintenance staff will need access to the server rooms but that should be tightly controlled. Security systems that include biometric access, perimeter control and video surveillance systems will be standard in the data centres. An effective data centre will have invested in both the facility and the equipment housed to ensure a robust security system.
High Standards
Standards need to be high for a modern data centre and it would be expected to provide:
Always Available
Organisations need 24-hour access to information for 365 days a year. Downtime is not an option for most business so we should expect Uptime to be over 99% and as near to 100% as possible. A company needs its IT systems at all times so it is vital that there is guaranteed availability of cloud applications running in the data centre. This level of performance is both expected and achieved by the partners we work with.
Power Uninterruptible Power Sources including battery banks and generators should be in place in the event of a power failure occurring. The UPS will ensure that the power remains constant without any breaks. It will compensate for fluctuations in voltage and frequency and protect the sensitive computer electronic components and systems. Data centres will also have a redundant power supply. This enables repairs on one network without having to turn off servers, databases, or electrical equipment.
Environment
Data centres need the correct internal environment control. This includes computer room air conditioners, heating, ventilation, air conditioning and exhaust systems. The many processors and electronic components will naturally generate heat and if this is not dissipated there is a danger that they could fail. The correct cooling equipment must be in place to prevent this and the power to run this is considerable. Normally the cool air is blown through holes in the floor and it flows around the racks in a measured way to counteract the heat from the servers. The warm air is then removed by the air conditioning system
Equipment
A data centre will be a building filled with equipment and that hardware should be of a high quality and fit for purpose. Equipment for IT operations and storage of the organisation's data including servers, storage hardware, cables and racks. It should be of the correct specification and kept up to date and properly maintained. The operations team within the centre will physically monitor operations at all times.
Hybrid
Sometimes an organisations needs are a little more complex and this is where hybrid can be the solution. A business can now put in place a combination of third party, cloud based and on-premises services that are flexible. Different data can be deployed depending on what the organisation needs and certain data can be given extra layers of security. Again, this is flexible and can move and change as the business develops.
Modern Enterprise
As technology moves on and data centres evolve there is a need for knowledge to make the right decisions for a business. With growth being the main objective of most businesses, having the IT infrastructure can be an enabler to access new markets and launch new products.
Shifting from an on premise situation to a multi-tenant data centre can seem like a daunting prospect but that is where we come in. DNA IT Solutions work on projects for businesses like yours every day of the week. We take an extensive overview of your business requirements so we can make sure your transition is smooth and with the minimum of downtime. We are there for you through the process and beyond.
If your servers are old, if you are considering moving some or all of your systems to a data centre then you should talk to us. DNA IT Solutions work with businesses that are interested in ensuring their IT infrastructure is ready for growth. We not only work with you to give the technology for today, we also plan with you for the future.