Digital transformation is the process of re-imagining and re-designing a business to continuously improve how it is competing and interacting with it's customers using digital technologies. The objective is to either create new business systems and processes, or modify existing processes to meet changing business and market requirements. Digital transformation also involves changing how we do things internally and re-imagining how staff do their jobs.
Digital Transformation is not about technology – its about enabling the overall business strategy, and tech is only a part of that. Its not about throwing tech and money at an army of outside consultants and forgetting what makes your company competitive in the first place.
Digital transformation takes a customer-driven, digital-first approach to all aspects of a business, from its business models to customer experiences to processes and operations.
It may use a wide variety of tech, including AI, automation, hybrid cloud and other digital technologies to leverage data and drive: intelligent workflows, faster and smarter decision-making, and real-time response to market disruptions.  And ultimately, it changes customer expectations and creates new business opportunities.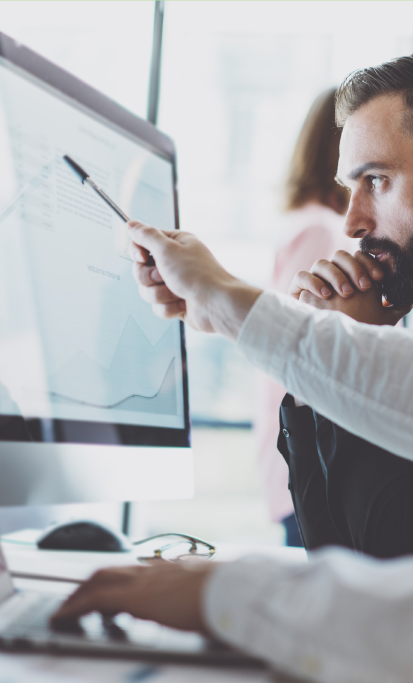 Digital transformation can be applied to nearly every aspect of your business, however – there is no single solution that will fit with every business. Working with a team that is familiar with all the options will ensure you get the solution that is right for you.
SIX AREAS WHERE A DIGITAL-FIRST APPROACH CAN PROVIDE THE BIGGEST IMPACT ON YOUR ORGANIZATION.
Customer Experience
Creating a smarter, more intuitive experience for your customers.
SUPPLY CHAIN
Building a more resilient business with AI-powered solutions for enterprise asset management, supply chain, and facilities operations.
HUMAN RESOURCES
Empowering your workforce to do higher value work and bringing intelligence to your human resources strategy.
IT
Enabling new technologies to work together, sharing data for improved analytics, and using Cloud services to improve reliability and business agility, to adapt quickly to new business needs.
SALES AND MARKETING
Sales and marketing working closer together so that customers have a better digital buying experience and after sales experience – this is just one typical objective of how digital transformation can enable vastly improved business processes for the commercial teams.
FINANCE
Better data management means improved financial insights and faster, more accurate costing and financial management.
SIX WAYS DNA IT CAN ASSIST WITH YOUR DIGITAL TRANSFORMATION STRATEGY: